Cellular particle activated carbon mesh is divided into cell room by cellular type plastic frame. Filling with high sorption value carbon particle or photocatalyst air cleaning agent. Both sides sealed by nylon mesh.
Advantage
High carbon content;
High air flow and low resistance;
Together with PM2.5 pleating filter materials to fabricated efficient air purifier;
Cellular type activated carbon filter mesh is used cellular type activated carbon impregnated material as main material. Both sides supplemented with aluminum mesh or galvanized steel mesh or individually used.
Property:
▲
Large airflow, low resistance, simple structure,
▲
filter materials contain 30%- 50% carbon volume, thickness is from 3-5mm, good bending rigidity.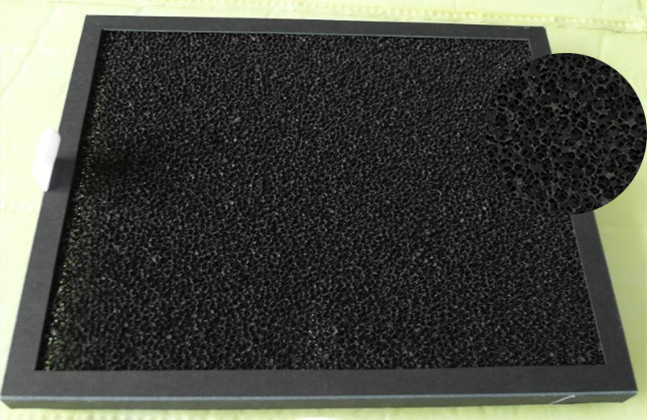 Pleated activated filter mesh is made mainly by fiber type activated carbon filter mesh or activated carbon fiber felt, supplemented by metal mesh and frame cloth as supporting and pleating to designed shape.
▲Large filtration area and low resistance;
▲5micro dust could be filtered and filter efficiency is between 85%-95%;
▲Activated carbon felt has stronger adsorption ability, benzene adsorption value is between 30%-52%. GSM is between 60-400 and thickness is from 0.8mm to 5mm.
Technical parameter of activated carbon felt



Type

Static state adsorption capacity




(wt/%)

Iodine adsorption value




(mg/g)




Surface area




(m2/g)

Benzene adsorption

CTC

JJF-1000

≥30

≥52

≥850

≥

900

JJF-1300

≥38

≥68

≥1100

≥

1150

JJF-1500

≥45

≥81

≥1250

≥

1300

JJF-1600

≥52

≥93

≥1500

≥

1550